Get your PDF copy of Web Design Trends 2022
Fair warning, this is a relatively long read. If you don't have the time to take it all in now, you can download the PDF version of Web Design Trends 2022 for free by clicking below. Otherwise, just keep reading!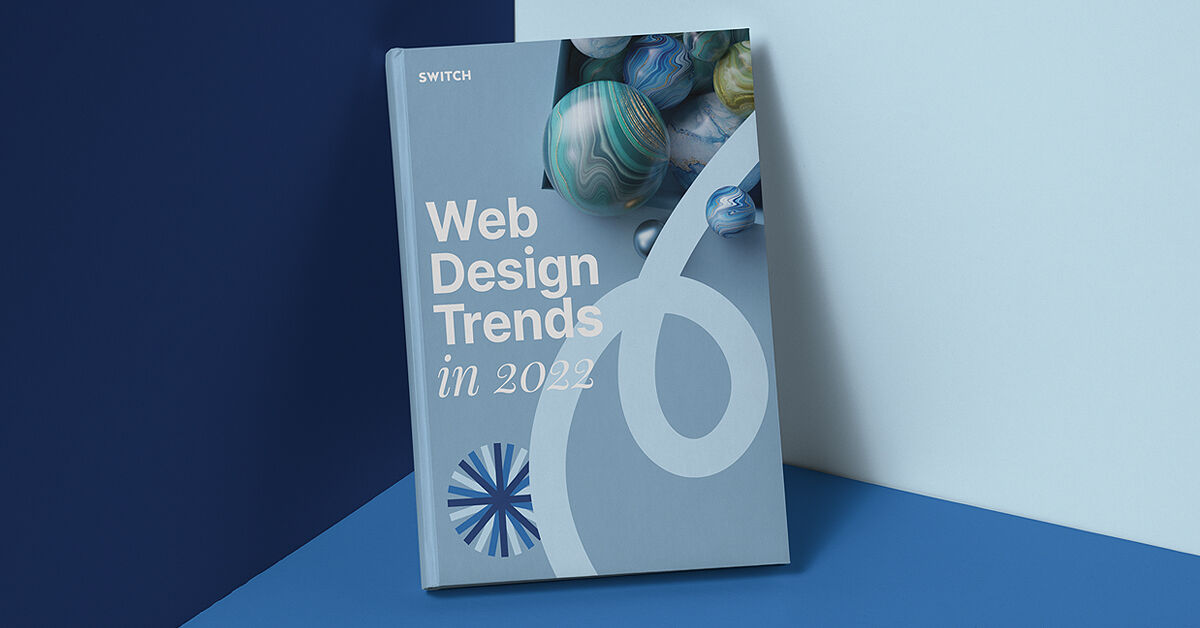 Intro to Web Design Trends 2022
Mobile apps may be on the rise, but for most brands, a consumer's first impression of them is their website. 
The website is the oldest form of modern brand communication. It has had to contend with two decades of accelerating user requirements and design influences: Web 1.0 technologies that cannot support today's needs, growing demands by consumers to see technology expressed differently, the expansion of social media as it interweaves with the web, and a steady acceleration of mobile-first web consumption.
The next 12 – 18 months are going to see upheavals that are much bigger than the slight evolution that design and marketing has been seeing over the past decade.
Web design is no different, so we've asked our designers to collect the research they've been doing to figure out what's changing in 2022.
This is what they found out.
Page Speed and UX improvements
When Google released its algorithm update in June 2021, web developers were suddenly being pulled into SEO conversations in ways they hadn't been before. Before then, they hadn't had much to do with the SEO side of things: that was what SEO experts were for.
But as speed and UX scores became even more crucial for any brand that wanted to rank, SEO experts started to look at the way the sites were built in much more detail, beyond the technical analysis scores and content on those sites.
This isn't surprising. It's what needed to be done years ago, put off and set aside until brands had to make those changes. With website traffic decreasing, web design theory needed to catch up.
And now we're here: with websites loading even faster than ever, algorithms more complicated than we started with, and designers who have to contend with the changes and make it look good.
In 2022, a lot of the trends we're seeing are built around speed and advancing UX algorithms. Here's a few we keep thinking about.
At least one successful micro-metaverse
Head of Studio, Andrea, considers the metaverse one of the more interesting concepts of 2021, something that'll carry over into 2022 – but what the metaverse will ultimately be is still an unanswered question.
"We'll be constantly defining what we want the metaverse to be – right now, there's a lot of misinterpretation and question marks about the metaverse, and early adopters jumping onto this idea that doesn't yet have a clear definition. However, by mid-2022, we'll probably see some big corporations embrace the idea of the metaverse, possibly as a tongue-in-cheek reference, like Wendy's Fortnight expansion. Brands that especially turn to offering digital products are going to be lured into the idea of expanding their brand into the metaverse and creating a miniature world where their brand is everywhere."
Shared experiences brought people closer during the pandemic, when lockdown was everywhere and people were mostly trapped in their own homes. They created their own communities then, with whatever they had available: group chat apps that allowed you to watch videos or games that helped you connect with strangers to play. It changed the way people considered proximity and community.
In the almost post-pandemic, that isn't going to go away – even though it's at odds with the 'anonymous online' part of the web.
In 2020, Porter Robinson started releasing singles on his site where you essentially enter a virtual space with one other stranger and listen to the song together.
For 2021, we had apps like Skittish, that brought events to you with a mingling of business and pleasure applications.
For 2022, we're going to see more of the understated, low-key shared experiences that the early internet was known for: small, simple, and intimate connections between relative strangers.
Vanillification
We're now stuck to screens for an unprecedented amount of time per day, and the time we spend on websites has to matter. The idea of remote-first isn't going anywhere; in fact, it's getting deeper and transmuting into webpage experiences that are pared down to the essentials and can still take you places.
Our head of design says, "Remember, your phone or laptop are essentially teleportation devices – web design needs to consciously facilitate this feeling of 'travel in a still travel-semi-restricted world.' And it's not only about going to places that don't exist."
Sorina adds, "We're going to see a move back to clean design, with generous white space, allowing room to breathe, and this ties in really well with Google's recent algorithm changes and the rising demand for mobile-friendly websites – the simpler a design is, the easier it will be to make sure it works the same across devices."
Our CEO, Rik, has a point to add to this: "As more people work remotely, it's not only farmers who are experiencing slower connections. People who are used to working on a fibre connection suddenly have to contend with the slower internet speeds available in more remote places, and they'll be looking for sites that don't take ages to load."
Inclusion through typography
Designers love their tiny text.
In 2022, they're still set to rule – but not entirely on their own. The remote-first modus operandi means that previously inaccessible events are open to a lot more people than before; it's time for the web to reflect that. User-dictated type sizes and adaptable colour schemes are in, as are alt-texts, captions, and a greater emphasis on keyboard navigation, both manually and by voice.
The Return of Experimental
Minimalist app design has a lot to answer for when it comes to modern web design, and for a good reason: as a new technology, it was imperative that digital services were easy to understand, use, and navigate.
That was then.
Now, we're going back to the roots. Work has changed. The way we work has changed.
The way we interact online is also going to change.
Nella says, "Ever since March 2020, our lives have been turned upside down, so I don't see any harm in having some fun with web design in the near future. Re-introducing bold and playful combinations of colour, a mix of harmonious typography, some animation and an overall sense of positivity, is definitely a step in the right direction."
Outdoors, Indoors
Plant parenting, solitary hikes, the great outdoors: lockdown life brought a lot of people back into the fold of nature, and that's set to keep going into 2022. Websites that use tranquil, soft tones and try to create a sense of calm aren't new, but this is one of those underpinning trends that's likely to cause big shifts in how we approach web design.
Additionally, the ongoing climate crisis is a big driver for more natural web design. Nella, says, "This is also a nod towards awareness of the environment, our impact on the planet and a quick realisation of how much time we spend daily, looking at our screens. Young designers whom the industry relies upon to innovate have lived through this short period of pain, but have also been born into a warming planet. They're hungry to innovate and they will most certainly push the market to do so as well."
As I Do, So Do You
Behavioural design is an age-old principle that has shaped the products that surround us. It is poised to see a surge in 2022 as brands use data in novel ways for them to stand out from their competitors. Cleverly blending collected data with web design will further enhance user experiences.
According to Sorina, "behavioural design is based around cue, action, and reward, and a lot of apps use it today, such as Headspace. Headspace's success is largely due to its ability to keep subscribers engaged and 'active', using personalised daily playlists, stats, schedule syncing – and it's successful because these are the methods that it chooses; it understands what its users find as motivational."
It's All In The Thumb
The better your website is designed, the easier it is for your consumers.
Thumb-friendly navigation is one of those things that users don't really think about, but is going to become absolutely fundamental the more that we move into faster, more responsive mobile-first -pages.
This also opens up the option for different scroll patterns. The web has no longer been designed solely for a mouse and a computer for over a decade, but gesture control will likely come into its own in 2022.
Talk Out Loud
Voice-search is on the rise, and web design has to keep up. With more and more searches conducted through voice every day, it'll be interesting to see how web design can subsume voice chatbots and virtual assistants into a part of the overall approach to web design, and what that's going to mean in the future.
Sorina's prediction: more websites will integrate voice search as an alternative to traditional text search, which will also make these websites more accessible.
90s, Baby
There's always a place for nostalgia, and in 2022, that place is going to be the internet. With the youngest 90s baby now 22 years old, the early internet aesthetic is going to reign supreme in 2022 as actual 90s kids turn their love of nostalgia into the place where they used to spend all their time: the internet, and all its neon popup glory. Add in the popularity of lo-fi music and the TikTok filter machine, and the 90s are on their way back to the web in a big way.
Google's Page Experience Update
According to Andrea, this is something that's been in the works since the internet was – and it's finally being formalised.
And it's a good thing.
The Google Page Experience update has changed the way Google's engines parse web pages, helping them load faster and better. With an improved page experience and a quick loading time, it changes the way designers have to approach a web page.
Websites that look beautiful but have elements that stutter or skip break the immersion of that web-page. Similarly, websites that load well but have elements that don't look good won't hold your attention.
Andrea says, "this is really going to positively challenge designers to be as brutal in their approach as possible. For all its openness when compared to print, web does have an interesting set of core ideals or limitations that, so far, we've been pretty free and relaxed about. Something as simple as keeping your choices minimal but cohesive, throughout web projects is an obvious but important start, but this puts more of an engineering spin on web design than anything else – it's got to look great and work greater. We need to design with the end experience in mind, not just 'does it look good' but 'do I even know that I'm on a website.' If the experience is uninterrupted through smart design, users will end up having better experiences."
What Are they Going to Look Like: Web Design Trends 2022
It's important to keep in mind that these changes aren't happening just because designers got bored with the last set of trends, or because last year's trends no longer apply. We're nearing a complete change in how the web works.
In some aspects, that change has already happened. Blockchain, bitcoin, NFTs, metaverses, entertainment over anything else: this is new.
And designers have to work with it.
We talked about the why.
Here's the how.
One-Page Age
Lockdown made the world a lot smaller. Overnight, you couldn't travel. You had to stay indoors. You couldn't attend events you'd been looking forward to or engage in different experiences.
Those limitations keep coming and going, and will for a while.
One page websites are here to make the best of the bad.
By containing everything to one interactive webpage, the experience of doing something, of being somewhere, is maximised: there's no burger menu to take you out of it or traditional page set-up to remind you you're on a website. All you need to do is go onto the homepage, access the article, find the micro-site, and scroll through the story.
Animated in-text elements, tiny animations, and incredible visual design are the cornerstones.
The heart is the immersion.
Point-and-Click Panorama
Do you miss the old internet design?
Well, good news: it's on the up. It's been on the up since 2021, but 2022 is going to bring the 90s point-and-click nostalgia back to the forefront.
Nostalgia sells.
But this is deeper than nostalgia.
Before the web was standardised, social-media-ised, or (barely) sanitised, web design was full of easter eggs and HTML coding tricks and figuring out new ways to apply the same three elements in different configurations. Community efforts to create websites that worked beautifully and had little tricks in them for users to discover were what you did on the internet way back.
People are tired, and they're tired of websites that exist just to sell a product. Websites that can incorporate some of the joy of logging into the internet in the 90s and winding up in a coding rabbit-hole are going to see the effort pay off beautifully. As people strive to find connection in a time when connection is especially important, and increasingly difficult to create, giving them a talking point and a no-strings-attached adventure is an excellent way to keep them coming back because they want to.
Bespoke Page View
Some people like to read their articles in dark mode. Some people don't.
In 2022, those design choices are going to become a facet of every web design plan. Right now, tailoring things to specifications – smaller text, bigger text, different colours, dark mode, light mode – is prevalent in everything from apps to mobile devices. It's going to extend to web as a matter of course.
Tailoring a site to fit personal specifications builds a connection, and opens up the accessibility of the website to everyone. We're looking at an age where humans want the choice to change things – not because they specifically need it, but because it's more comfortable to.
Mise En Place
In the age of Zoom calls and house tours and vlogs, something stands out.
People are really curious about other people.
Websites can leverage this.
Design that gives more sense of place. Images that identify who's who and what they like.
Design that puts the humans behind it at the front and centre, and build a sense of trust between the people on the website and the people who designed it.
And with that trust comes connection.
As we've said above, connection is critical – even more so now than it ever was. 2019 and 2020 showed the global population what isolation felt like.
It isn't surprising that nobody wants to go back to that state of being.
Positively Positive
We could all use a little bit of good news with the bad.
Going into 2022, websites will lean into the positive. Light, bright colours, upbeat music, an emphasis on the happier side of things.
It's not just altruism.
There's enough bad news to go around. People are tired of hearing about it, of getting bombarded with reasons to worry, of feeling stressed and sad and lonely. Websites that can add back a little happiness, and build a connection with their viewers, are going to feel the uptick in traffic.
Micro Movements
There's a lot on the web that's interesting.
So much so that websites can struggle to keep their audiences right where they need them, especially for longform content.
Tiny animations can help keep the brain grounded to your page. Tiny animations throughout a piece of longform content help keep people engaged.
We get it. There's so much to keep in mind already that long-form content and static web pages seem like an extra effort. Tiny animations are a middle-ground: emphasising content, without losing the attention of a frazzled audience.
Designer's Dream
Static images aren't out.
But there's going to be less of them around.
Design elements are on the up for 2022, with websites opting for less in stock photos and more in custom design that really puts your personality where your site (or social media!) is. This trend is also capitalising on something we've noticed overall in human behaviour: the sudden shift towards hyper-custom, hyper-personalised content and design that's built to stand out above what's been popular for the last ten years.
Andrea pinpoints a few that he considers will have a bigger emphasis on the way web design is approached in 2022.
Art Deco Double
The Art Deco revival really started a year ago, but we haven't seen the full limits of what it's capable of until now. According to Andrea, Art Deco is an excellent trend for 2022 and the rise of personalised content due to the minimalism that drives it. With a fundamentally simple design, Art Deco can be both contemporary and classic, and suit multiple different materials, mediums, and brand needs.
Textual Feeling
Part accessibility, part style choice, web design is going to go all out on text with large, bold titles and micro messaging. Andrea suggests we'll see large copy especially in tandem with bright visuals and scrollable interfaces as brands build stories told exclusively via movement.
Linework Love
We've seen this trend before. It's one of those things that just keeps popping in and out of style, but Andrea's predicting a sudden surge for linework for 2022 as users are given more control over how to approach design. Andrea says, "think of it like a colouring book – the basic elements are there, but users can fill in the gaps with their own styles and experiences. It is also a great graphic style that allows designers to lay out flowing information without needing to default to endless columns of text."
Going Forward
As the years roll on and the idea of web design moves from an idea to an entrenched discipline, it's interesting to see how changes happen, and how close they are aesthetically to Web 1.0.
From minimalist text to just-because-I-felt-like-it font choice, the internet has come full circle. We're back to the era of early internet exploration, of creating websites that look and work beautifully just for the hell of it, of working together with some of the biggest technologies to create an experience.
2022 is going to be a lot of things, and boring is not going to be one of them. We're looking at a web gone more accessible, louder, more customisable, more easy to adapt to.
It's going to change everything.
And we can't wait to get our hands on it.
Want to read more marketing trends for 2022?
Here are a few more resources we've put together, with more on the way:
Marketing Trends 2022: The Year of Conflict
Seven Regional Marketing Trends We Want To See More Of
Social Media Trends 2022: The Year of More