Choose a job you love, and you will never have to work a day in your life. – Confucious
As cheesy as this might sound, it's true. I often hear people complaining that they hate their job, that the day passes too slowly, and how demotivated they are to get out of bed in the morning (although, in all fairness, I struggle too when the alarm goes off- but that's only because I am a lazy sloth at heart and I treasure my ten hours of sleep).
Truth is, I love what I do and I am motivated to get to work every day. Yes, there have been times where I wanted to flip my desk, panicked because of deadlines, or burst into tears at the thirty-three-thousandth time the website broke down for no actual reason. But, when looking at the bigger picture, there have been far more good days than bad days.
Here's why I think working in digital marketing is great.
Work without working
One thing that happens when you are completely immersed in the online world, is that you never really switch off. You could be scrolling through your personal newsfeed, and come across something you made for a client (and then, obviously, check the stats to see how that post is doing), or an article that sparks an idea for an upcoming project. I have countless of screenshots on my phone and 'saved' posts on Facebook that I keep for work purposes. Some may argue that you don't ever cut off from work and therefore never take a break, but when you feel like your job is more like a hobby you see everything from a different perspective. I've often found myself writing blog posts over the weekend, and not because I am a 'workaholic', but simply because I enjoy what I do, and sometimes I may get inspired to do something outside office hours.
Work remotely
Oh, the joy of working in pyjamas!
All I really need to get my work done is an internet connection and a laptop – which is great, because it means I can pretty much work from anywhere. On the days where I lack motivation, creativity, or I am simply facing a 'writer's block' I leave my desk and try find inspiration in the boardroom floor, in a coffee shop, or from the comfort of my sofa. I've always struggled with sitting down at a desk for too long, as I often felt like I was restricting my creativity. You can now easily find me sitting under a table working on a blog post, or doing analysis from the bedroom floor.
It keeps you going
There are two things that keep me hooked and interested in the job I do, and challenges me to do better: measurable and unpredictable.
Measurable
I've always hated numbers, and stopped studying maths at a relatively young age, but one of the things I enjoy doing at work are reports. I love going through the statistics, seeing the numbers, analysing the results in order to understand what we may be doing wrong, what we have to keep doing and what is worth trying to do. It's something that I find fascinating – to everything we do online, we can see results and analyse them.
Unpredictable
Did you ever expect a post to do extremely well, but you disappointedly find out that it was just a flop? It has to me, many times.
There are different factors that can influence the performance of a post, an advert, or article, such as time, medium used and content. But ultimately, there is one factor that is unpredictable: people.
At the end of the day, what we must always remember is that everything we do has one sole goal: communicate to people. We may want them to like a Facebook page, shop from an outlet, use a service, donate to a charity, or simply visit a website – but we have to always remember that who we are targeting are people. Humans who can interpret a message, an ad, an article in different ways. At Switch we strongly believe in the importance of H2H (human to human) communication – who we target aren't machines, but people who may interpret our message differently from the way we wish them to, because that is the beauty of humans: everyone has different opinions. The fact that we are constantly facing this unpredictability is what makes this job so interesting and challenging.
Here's a recent example of unpredictability in people – check out how this employees reacted to the 'BIC for her' pens to celebrate Women's Day: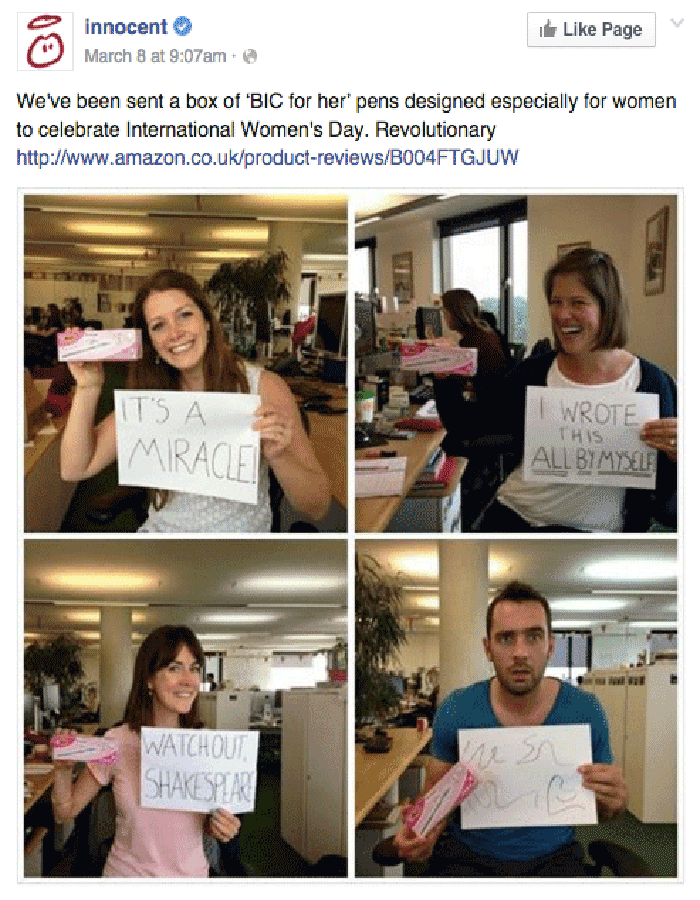 Read more about this story on Mashable.
Constantly learning
The internet doesn't sleep.
Every day I learn something new, and I love it. Social media is constantly changing, and you need to quickly adapt to those changes in order to remain on top of the game. Facebook decides to change the insights of the Pages? No problem, Teri and I will start trying and testing in order to learn exactly where to find the stats we need for reports and analysis – n.b.: swearing at the monitor and banging the desk may occur in this process.
This is probably my favourite thing about this job – I am constantly learning. Whether it's by reading an interesting article that Matt shared with the team, or a deep conversation on how to effectively use Instagram, or by simply listening to presentations during the Friday's Brainstorming sessions (I've learnt a little bit more about photography thanks to Ed's "Making Pictures, Telling Stories" presentation), there is always something to learn. There is no place for monotony in this job and office.