YOU WON'T BELIEVE WHAT FACEBOOK IS ABOUT TO DO. 
Facebook is killing engagement bait, and this is great news!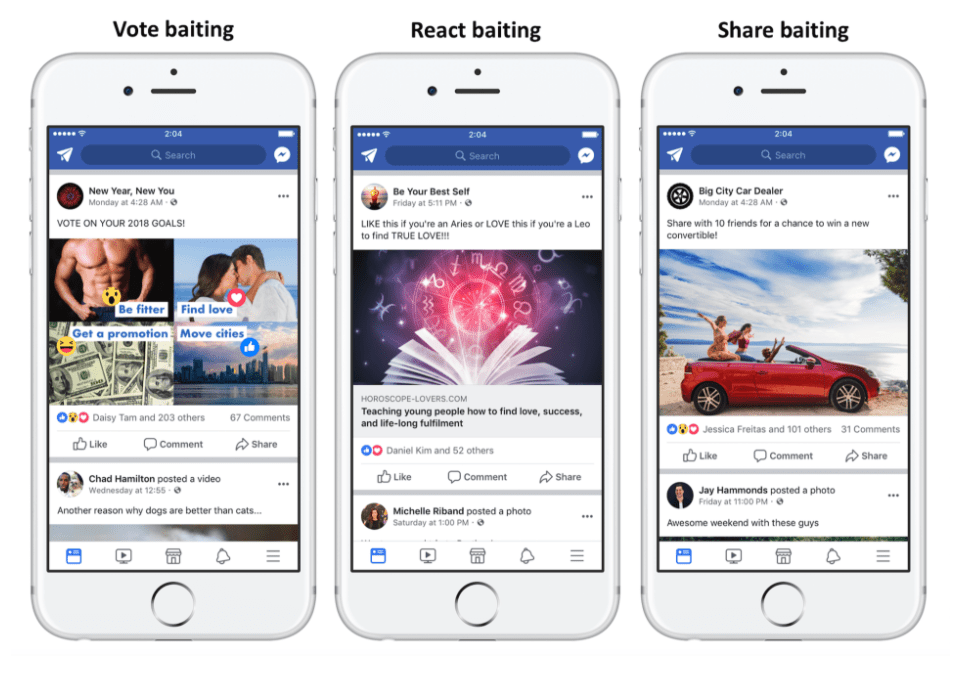 If you don't know what engagement bait is, here's a quick explanation. Whenever you see spammy content on your newsfeed which invites people to engage with a post in one way or another, that is considered to be 'engagement bait'. Think of all the times you've seen Facebook competitions asking people to share (share bait) the post or tag a friend (comment bait) in order to participate. Those are cheap ways for Pages to increase their page performance through engagement bait.
A more recent example is the trend that took place over the past few months. Posts which were not competition related would ask the audience to "Tag a friend who loves puppies". Others would state: "The person whose name starts with 'M' has to buy you a pizza – tag them!". These were considered very smart cheats to increase a Page's overall reach and engagement.
Well, late last year Facebook announced that it will now start penalising Pages which make use of engagement bait. This means that Pages which create quality content will finally have a chance to shine. (*Happy dance*)

Here's the how and why:
Whenever a Page will make use of such spammy content, systematically and repeatedly, Facebook will start decreasing the reach of such posts. This will result in lower engagement and reach of the Page. Ultimately, using engagement bait content will be counterproductive. The reason for this fight against engagement bait is that Facebook wants to encourage authenticity and promote meaningful conversations on the platform through the use of relevant content.
We've all been guilty of using this 'cheat' at some point or another, but Facebook is finally drawing a line and no longer allowing over-use of this sort of content to increase engagement and reach.
We need to keep in mind that Facebook's ultimate goal is for the consumer to remain on the platform, and unfortunately, due to the continuous spam content, people had begun to lose interest in Facebook's newsfeed.
This isn't the first time that Facebook has waged war on bait. Remember when all the articles shared on Facebook would have these kinds of titles "You won't believe what happens next"? We do too. Well, Facebook has managed to find a way to reduce that sort of content, and they will be doing the same with spammy posts.
One month into 2018, we've already seen a difference in the content displayed on our newsfeed, and this is just the beginning.
So what does that mean for businesses on Facebook? It's a great opportunity to start producing good quality content which is both interesting and engaging.
Remember to please tag your grandparents in the comments and share this article with your pet. Thanks. ????