#TAKEMETOMALTA
March was another busy month for Switch. After winning the pitch for Air Malta's New Destinations Campaign, we got straight to work on both the advertising campaign and influencer campaign. A tight deadline loomed, but the excitement in the agency was palpable. This was going to be bigger than anything we'd worked on in a while.
The brief was straightforward: we needed to promote Air Malta's new destinations outside of Malta. Locally, Air Malta is one of the top of mind brands when it comes to airlines, but it is still not that established abroad – especially in areas in which it hadn't been operating.
The digital advertising campaign is vast, targeting 7 countries and the respective audiences within those regions. This gave us all the more reason for the ads to be as relatable, personalised and engaging as possible. If the message was going to be memorable, we needed to make it stand out among the noise.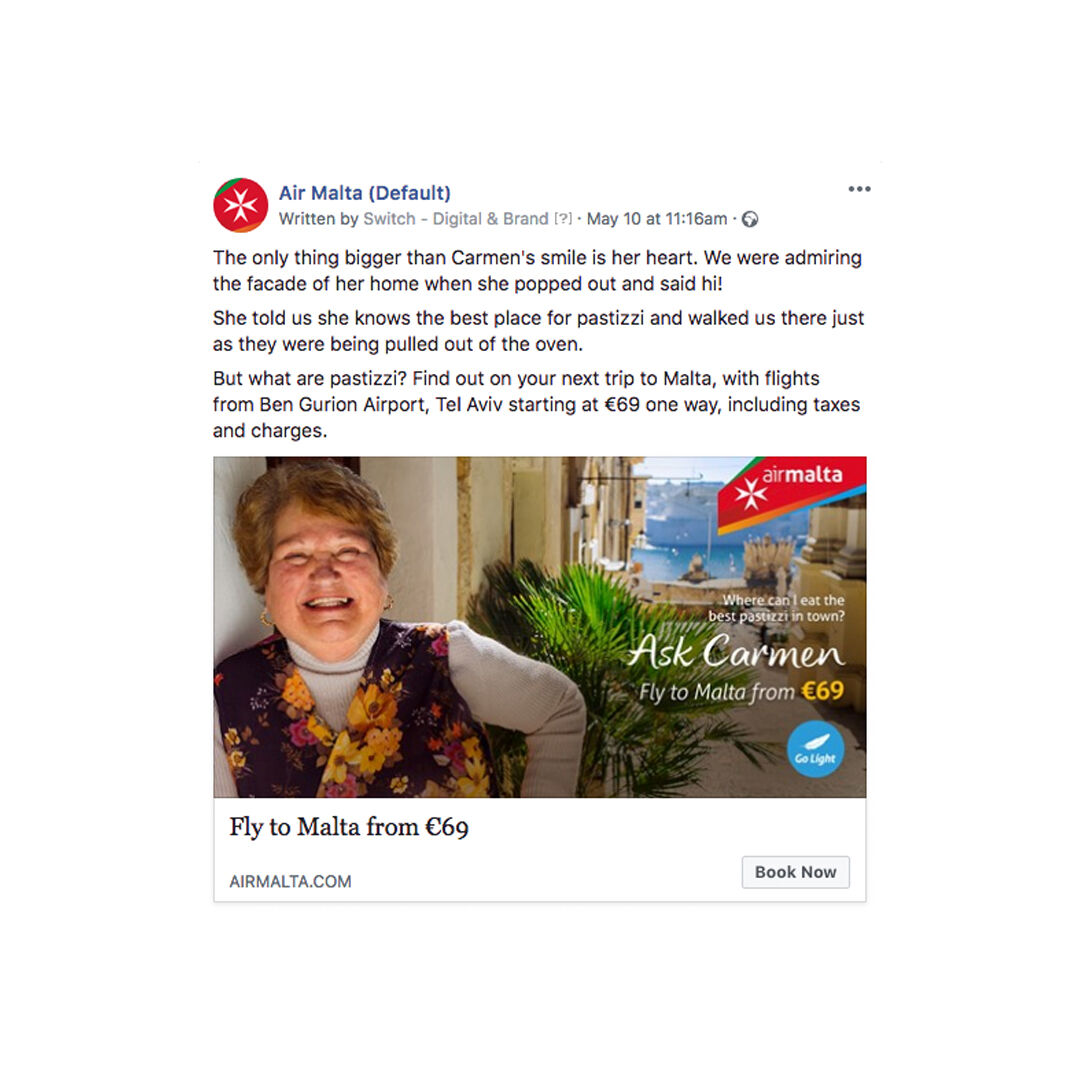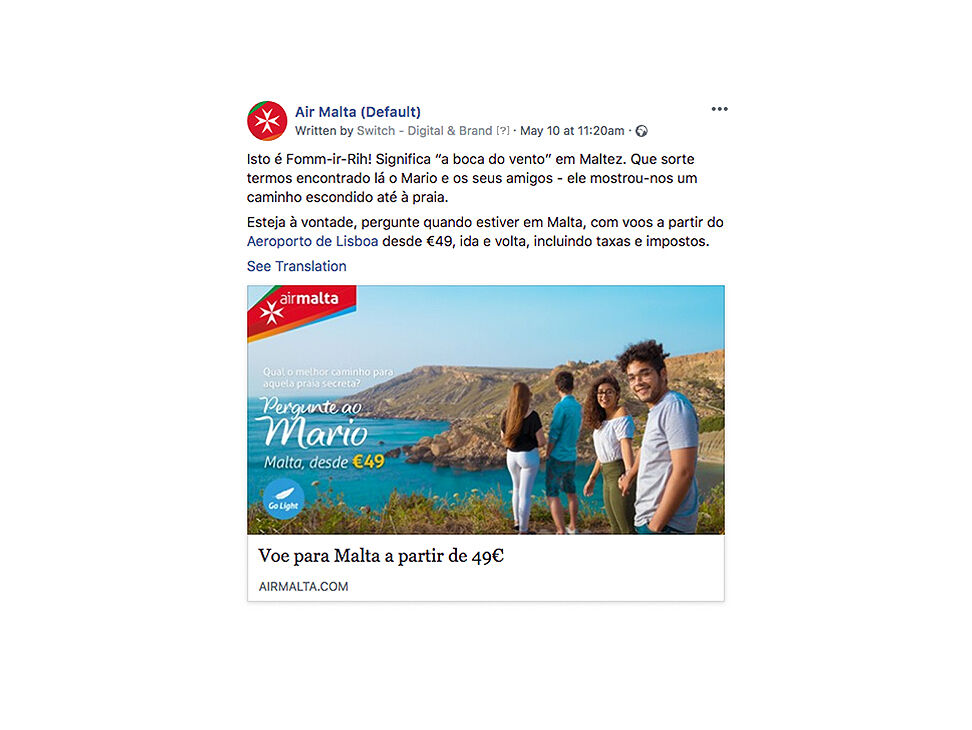 Things didn't stop there though. We were lucky to be working with a team at Air Malta that was open to fresh ideas, so we were thrilled when they agreed to work on something we truly believe in: Influencer Marketing. We've been proud advocates of Influencer Marketing from day one, and we've helped many brands expand their business through local collaborations – but Air Malta gave us the opportunity to take it one step further. We invited international influencers to Malta for a destination marketing campaign: #TAKEMETOMALTA.
THE SPONSORS
Between the 20th and 23rd April, we hosted 17 bloggers and influencers on our islands, on behalf of Air Malta. The goal was to show them the best that Malta has to offer through a destination marketing campaign.
Our work was cut out for us. Our target audiences in the 7 new destinations consider Malta to be a 'party island', a destination only ideal for students who wish to take a three-week booze-fuelled vacation away from their parents who think they're 'studying English'. We wanted to change that misconception; so we planned a three-day event to show the most Instagrammable places around the island. We wanted to ensure that the influencers (and their combined following of 5.2M) would see the gem we're living in, and want to experience it themselves.
There was one restriction: we had to work within the initial budget allocated for the digital campaign. To work around this, Air Malta agreed to let us look for partners to help us make Malta's biggest destination marketing campaign happen without breaking the bank.
The response was great – Corinthia Hotels were soon on board, providing accommodation through their three hotels (Corinthia Palace, Corinthia St George and Marina Hotel), and a delicious five-star welcome dinner at Villa Corinthia on the influencers' first night.

Ecabs also signed up as sponsors, providing transport throughout the duration of the event. From airport pickups, to drop-offs around the Island – the influencers were treated to first class transport.

Trabuxu, one of our favourite wine bars in Valletta, provided the perfect afternoon snack – a combination of excellent wine with cold cuts and cheeses, well needed after a stroll around the capital city.

One of our own clients, Danny's, offered us a fantastic lunch after a long day of exploring the gems that the south of Malta has to offer (and yes, the influencers got to try their famous spicy beef cheek linguine, which they loved).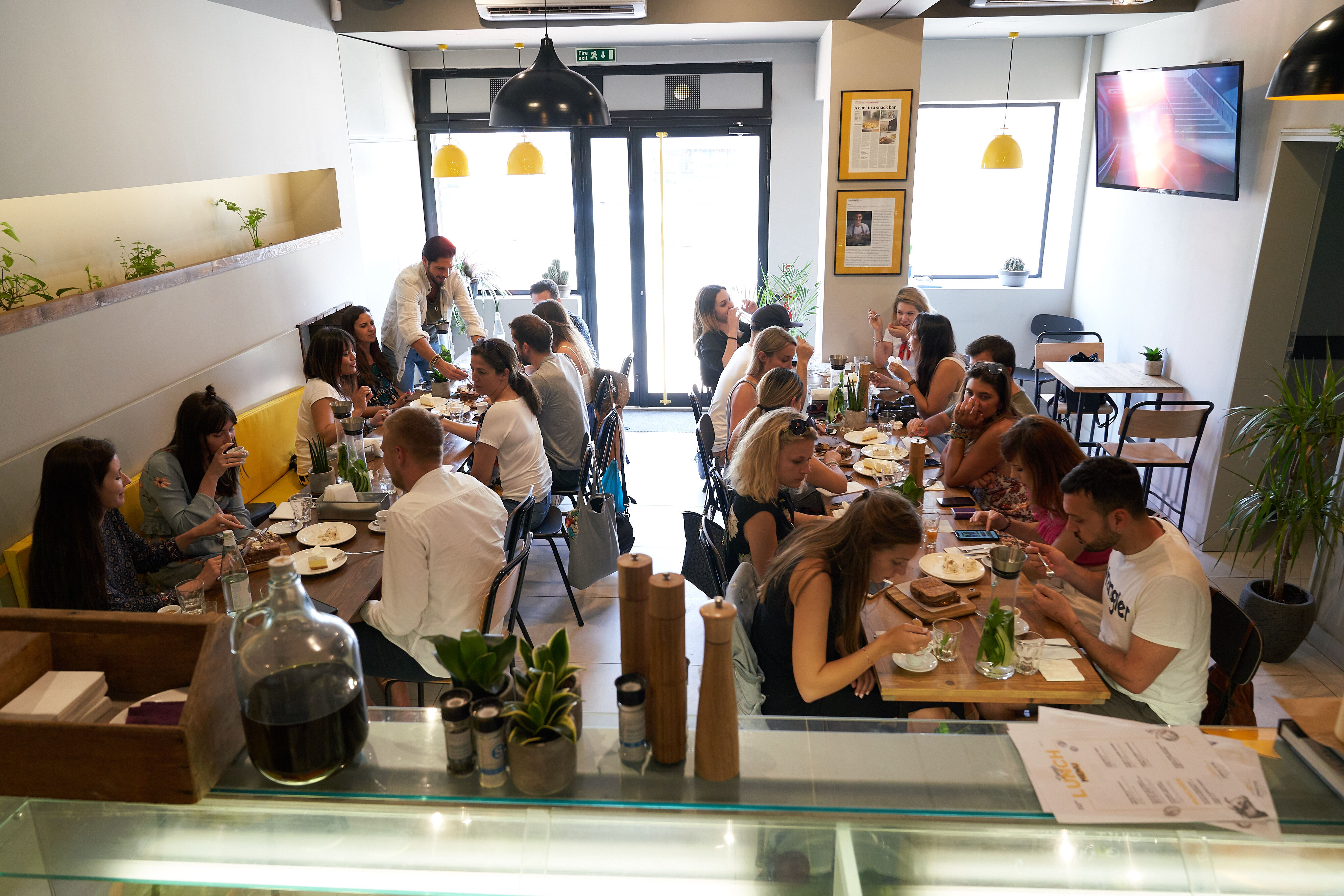 If there's one thing we know, is that there can never be enough food. We were thrilled to collaborate with de Mondion from Xara Palace, who provided first-class service and food for the influencers' last dinner (and can we please talk about the view? ????)
THE INFLUENCERS
Finding the right people to work with for each new route took quite some time. We were after a balance of travel bloggers (people who are followed because of the blogs they write) and travel influencers (the ones who are known for their beautiful photos and short, yet useful, captions).
We opted for quality over quantity, as it was important for Air Malta to create meaningful conversations. Because of this, we chose to collaborate with 'micro' influencers over 'macro' influencers. This being said, there was nothing micro about the combined number of followers that our influencers had across their social media platforms: 5.2 million followers is no mean feat.
From Spain, we had:
Irene & David, from the Traga Viajes blog – a dynamic couple who are always on the go exploring and visiting new places.

Alii Moron, fashion and travel influencer – with over 160K followers on Instagram, Alii is known for promoting beautiful outfits in beautiful destinations.

Dani Keral, blogger at Un Viaje Creativo – Dani travels the world with a camera in one hand, and a pen in the other.

Nadia & Javi, the power couple from Travel the Life & Javi Cubo – this Spanish power couple have started travelling the world back in 2002. They've visited over 30 countries and launched their blog and social platforms in 2015.

From Russia, we had:
Vladislav Karpyuk, the adventurous Instagrammer. Vlad has two obsessions: heights and puddles. If you scroll through his Instagram profile, you'll see breathtaking views taken from the roofs of buildings, or stunning water reflections in puddles.

Yulia Taskaeva, beauty and travel blogger – When she's not travelling to Paris or Coachella for work and leisure, Yulia is either studying for her Uni exams or swatching lipsticks for her next blog.

Valeriya Kornacheva, traveller & photographer – Valeriya photoblogs her life, from places she's seen (over 40 countries), to hotels she's stayed at, to languages she's learned and food she's tasted.

From Portugal, we had:
Susana Ribeiro, the solo traveller from Viaje Comigo – Susana started writing about her travels in 2013, and since then has won two awards for her blog. Her passion for discovering new places has taken her everywhere around the world!

Carla & Rui, the travelling teachers from Viajar entre Viagens – when a geography and physics teacher decide to start a blog, no one can stop them. In between school holidays and days off, Carla & Rui have managed to tick off many countries from their list, and Malta was one of them!

From Italy, we had:
Nunzia Cillo, writer and photographer – Italy is her home, but her heart belongs to the world. Nunzia writes about beauty, fashion and lifestyle, all while visiting and exploring new places.

From Israel, we had:
Ella, hilarious blogger from Ella Travels Word – Possibly one of the most dynamic and hilarious people we've ever had the pleasure of working with. She's passionate about everything, and visits every place with an open mind, no expectations and curiosity to learn about everything.

From Morocco, we had:
Zeineb Laouni, beauty and travel vlogger – Zei is a famous radio host by day, but has grown her following due to her passion for all things beauty and her curiosity to visit new places.
THE AIM
We had one goal in mind for this destination marketing campaign: to promote Malta as a holiday destination by showing how easily accessible it is thanks to Air Malta's new routes.
Every detail of the three-day event was strategically planned in order to encourage the influencers to promote the Island, the airline and the sponsors. We took them to Malta's most Instagrammable spots. We planned each location stop at the right time of day to ensure the best lighting for photos and videos, and we ensured that each meal was worth photographing. In a nutshell, we made sure that wherever the influencers were, there was a good-looking story to tell.
We encouraged the use of the hashtag #TAKEMETOMALTA for every tweet, story, post, blog and vlog shared related to the Air Malta's destination marketing campaign – which resulted in over 300 posts in just under a week.
THE ACHIEVEMENTS
It's been almost three weeks since we hosted the influencers, and the results are still pouring in. To date, we've recorded over 1,150 posts, stories, tweets, blogs and vlogs that were shared in relation to the destination marketing campaign #TAKEMETOMALTA; not including the blogs and vlogs that are still yet to be published, and all the photos that haven't yet been shared.
Considering the tight budget and limited timeframe we had to work with, we were (and still are) overwhelmed with the positive results. We're still compiling reports (the numbers keep growing by the hour!) but we can proudly say that the campaign was a resounding success.

The next stage was just as fun. As all the influencers returned home and continued to promote Malta and Air Malta (along with Corinthia Hotels and our other partners), we started rolling out the digital ads – a mix of social, Google, Yandex and VK ads) to promote the direct flights to Malta in each new destination.
This is just the beginning. As more conversations happen online, our aim is to reinforce the message that Malta is now more accessible, thanks to Air Malta's new direct routes.
Keep your eyes peeled for the final results – we'll be sharing them on our page the minute we have them.