Anyone who's ever searched for a 'how-to' post to help with a DIY project will know that Pinterest is the perfect place for this kind of stuff. It's riddled with boards containing amazing pictures of everything from gardening, to fashion, to infographics on market research!
As a social media platform it's somewhat different from what you might be used to. The focus isn't on what you're saying, but what you're showing. In the land of Pinterest there's no time for boring imagery, because if a picture is worth a thousand words, then you'd better make sure your picture makes its voice heard!
While Pinterest is typically used by businesses who sell products, it can also be used by those who sell a service. The following are ten handy tips for using Pinterest from a business perspective.
 1. The set up
Logically, the first thing you need to do is set up your account. Create an account which includes a link back to your website and an about section. This should be fairly straightforward, especially if you've spent some time learning the ropes. Pinterest offer some handy guides in case you get stuck.
2. What to use Pinterest for
If your company's sales are product-based, then finding material for your Pinterest boards will be a walk in the park. This of it as an extension of your online catalogue but on a searchable platform packed with people who are looking for your stuff. So if you sell shoes, don't beat around the bush: create a board with the keyword "shoes" and upload an image of every shoe product you have for sale.
If your company offers a service then you can easily create boards related to that service. For example, a cleaning service could start a board like "cleaning tips" where images and infographics leading to links with handy tips are uploaded – and boy are these popular!
3. Observe your competition
It's always useful to know what others are doing. Check out your competition's Pinterest boards, see how they're using it and what you like and dislike, then come up with a game plan of your own. Remember to be as innovative as possible in order to present people with a defining feature of yours!
4. Keep it relevant
Only pin what's relevant to your business. You can show your cheeky side by pinning some business related jokes, but it's useless having a board about High Heels when you're a cleaning company.
5. Know your audience
The majority of Pinterest users are female. Moreover, most users are between 20 and 34 years old. This already helps you figure out how best to approach your audience. Remember to maintain the same message across social media platforms, but adapt it to suit your audience. Pinterest could be a great place to branch out, show a more fun and social aspect, and target a whole new area of potential customers.
6. Optimise for search results
Make sure to include keywords when describing the pinned image. Also include links back to your website so as to boost your ranking in search engines while increasing traffic to your site. Moreover, don't use link-shortening tools as this might cause your pins to be flagged as suspicious.
7. When to post
Don't blast people with all your pinned images at once. It could cause them to unfollow you simply because you clogged their page. Instead, time your pins so that you're pinning throughout the day and reaching different people.
8. Image sizes
Here's a handy guide to help you figure out image sizes on Pinterest. Your profile picture (which should be your company logo)  doesn't need to be particularly large since it will fit into the small circle. However, when it comes to the rest of your pictures be sure to always use high quality images. Although the Pinterest boards will show cropped versions of your photos, once you expand the board, and then expand the image, it will grow up to 750 px wide. This means that using small photos will result to shabby pins. So keep this in mind when uploading your own pins, and also while re-pinning other people's images.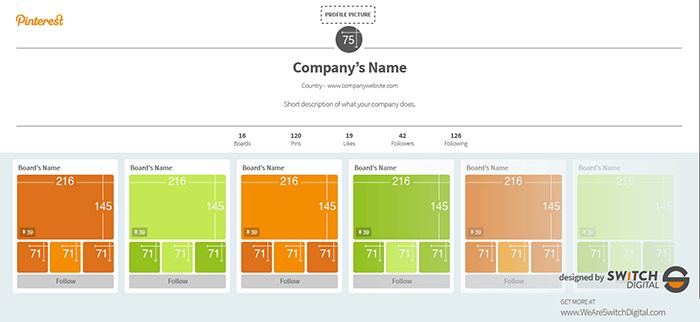 9. Your website
Make sure your website includes a 'pin it' button. Usually the 'pin it' button appears when you hover your mouse over images on a site with the function. However if someone is looking at your site from a mobile device then the chances are that this person isn't going to hover over the image, this means that the person won't realise that the image is pinnable. So by making the 'pin it' button obvious you're more likely to appeal to mobile users. And after all, the amount of mobile users is steadily growing! (Install the plugin on your site for hover effect)
10. Above all, inspire!
Pinterest is the world of online inspiration. Users while away their time looking at pretty pictures of how they can create, design and produce their own items, while others follow infographic boards, learning facts about a variety of things. Either way, whatever topic it might be, Pinterest users tend to be on the look out for inspiration.
Ensure that your content inspires, captures people's attention and makes them want to engage with you. And when someone engages with your brand, don't forget to return the favour by engaging your audience in a friendly and helpful manner!