Who is this for?
Deciding whether or not to invest time, effort, and money into something that doesn't seem like a sure thing is not easy. As soon as you Google the word SEO, you're just inundated with guides, tips, best practices, and lots of other information. Looks like you either need to hire an expert (whose opinion you can't trust if they can benefit from the result of said opinion), or take the plunge yourself. The former will likely be quite expensive financially, the latter expensive in effort and time.
So this piece is for those who are on the fence – unsure whether SEO for their website would be worth it or not, but aren't willing to spend too much time or money to find out. We're outlining a few simple(ish) steps you can take to see whether working on SEO will bring real value.
Let's get started
The whole point of this exercise is to see whether your particular website is primed for a boost in organic traffic with some SEO effort. To do this, we'll be taking a look at a few pieces of existing content on your website, then spending some time lightly optimising these pages to see whether they benefit from SEO. Before we get started though, make sure you have access to:
Google Analytics (or equivalent)
Your website's backend
If you don't have these on hand, get in touch with your web admins, or speak to us and we'll do it for you.
Look for a few pages that already have some traffic
First off, find a page on your site that already draws a little bit of traffic. Take a look at your analytics tools over the past few months, and take note of any particular pages that are already popular, have valuable content, and (if you have the data available), drive conversions.
Ideally, the pages you choose are ones with some informational content, rather than pure conversion (a blog post, for example).
Choose target keyphrase/keyword for each
Essentially, a target (or focus) keyphrase is the search term that people type into Google that you'd like your content to rank for. You'll need to choose a keyphrase for the page you've chosen, so we can optimise the page for it. So how do you find the right one?
As an example, if your page provides information about interior design trends, you should start with the main subject. In this case, interior design (obviously). Then, use a free keyword research tool, such as this one from ahrefs.com. From there, you can see what search terms are most popular and relevant to the topic. You even get a difficulty score, which will tell you how much effort you'll need to be able to rank for that keyphrase.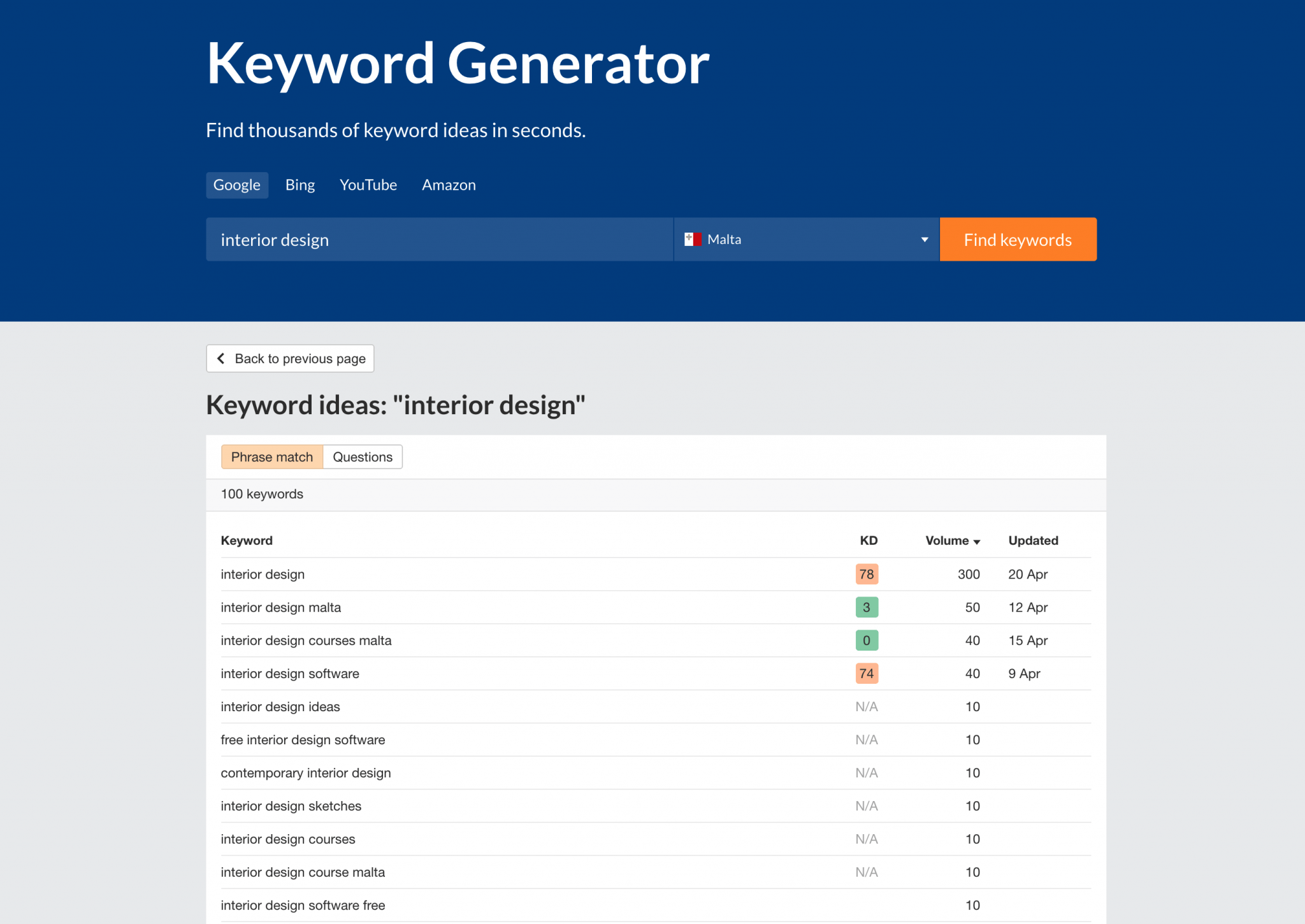 In this case Volume represents how many searches are happening with that keyphrase per month, and KD or Keyword Difficulty represents how difficult it will be to rank on the first page of search results for that keyphrase.
The aim here is to find a keyphrase for the page you've chosen that:
Is relevant to the content you already have. Ideally, your content solves a problem or pain point that is revealed by the search term itself.
Is not extremely competitive. The more competitive the keyphrase is, the more difficult it will be to rank. Look for a low KD (Keyword Difficulty) score.
Has a decent amount of search volume. "Decent" depends on the potential size of the target audience and the value of a single lead.
You should spend a little bit of time on this bit of the process. Choosing the right keyphrase is probably the most vital part of the exercise – it will feature heavily in the next step.
Optimise those pages with these best practices
Get your chosen keyphrase, and make sure it features in the following places on the page:
URL
Page title
Meta description
H1 & H2 header tags
Image alt tags
Body content
Image file names
Tip: Don't flood the page too much. Spamming the keyphrase will set off alarms with the Google algorithm, and this exercise will have done more harm than good. Don't forget, you're writing for humans, and humans don't like too much repetition (unless it's from Daft Punk).
If you're not sure what those listed things are, here's a complete glossary of SEO-related terms. CTRL-F is your friend.
Build internal & external links
Having a healthy number of internal and a couple of external links usually make a page more useful to whoever is browsing it. If you have content on other pages that would be relevant to anyone who used the focus keyphrase, make sure you link to it appropriately. The same goes for external links – look for content outside your website that would be genuinely useful to include in your content.
Post on social
If you already have relatively active social media pages, make sure the page you're doing this exercise on has been shared recently on all the platforms you use. When the Google algorithm finds a valid link to a particular page, it deems that page slightly more valuable – especially if coming from a high-authority website. If you create sufficiently great content, you might be able to get other websites to link to your page.
Wait a week or two
This is the most frustrating bit – SEO takes a bit of time to start showing results because you need to wait for Google to scan your website. That typically happens once every few days, so it's probably best to set yourself a reminder for about 10 days in the future to check the results.
Did it work?
Take a look at the organic traffic received from search engines – has it increased? If you search the focus keyphrase yourself, did your website's result jump up? If you answer yes to any of those two questions, you know there's potential for more value to be gained from SEO.
What's next?
Do it again. Find more pages that could benefit from the entire process. At some point though, you may find yourself up against a keyphrase with too much competition. Or you might struggle to figure out how to target a very particular user intent. Or you might need someone to take on the task of writing engaging content. The structure of the website itself could also be holding you back.
That's where a lot more of the technical stuff comes in, and you're probably best off getting in touch with an experienced expert. Especially if you're seeing valuable results coming in from the effort you've put in.