eCabs started as a black cab company, carving out an entire market for app-hailed cabs in Malta and disrupting the notion of transport with their innovative product mix, unflinching reliability, and a backbone of exceptional technology underpinning an operation that scaled in a way few companies in Malta have.
When the going is good, all this sounds great – exemplary even. But what makes a brand exemplary is the way it responds to times of crisis. Here's what eCabs did and how the team at Switch partnered up to help make it all work.
When tourism and airport runs vanished overnight and residents of Malta were encouraged to stay home, eCabs found itself with a whole lot of cars and drivers that had very little to do. They also looked around at the nation gripped by concern and grounded by necessity. It's times like these where the brand's commitment to be unflinchingly supportive kicked into action.

Virus-response – Sanitisation
Firstly, people were concerned about public transport and the increased risk of contagion on a crowded bus. eCabs stepped up their sanitising efforts and implemented aggressive and frequent cleaning routines that were designed to keep passengers and drivers safe. This also meant that packages, not only passengers, could still make it around the country quickly and safely.
We took it upon ourselves to communicate all this in a way that's consistent with the eCabs tone of voice, retaining a calm, positive, and occasionally humorous approach for on-page content. Our audiences responded very well to a brand that was taking every measure possible to ensure safety of the community.



A brand that cares
We went beyond this. eCabs also care about those who want to stay home during this time so we created content that suggested activities that could be done while confined to one's home and makes the most of extra family time. This made sense coming from the account – we had been creating content with suggestions for what to do around the island – so helping them with ideas now that they're stuck indoors made perfect sense with the brand's story.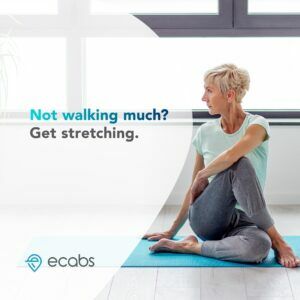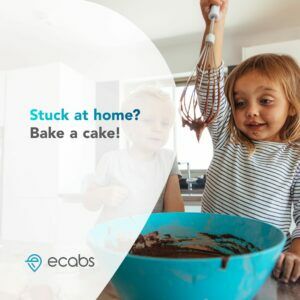 We also used all eCabs communication channels to deliver public service messages about general hygiene with specific reference to use of private vehicles and mobile devices – the two areas where eCabs is speaking from a position of experience and expertise.
While this content does not drive sales to eCabs, it does show that eCabs cares about the community within which it operates and feels happy to give back in times of need.

A brand that cares even more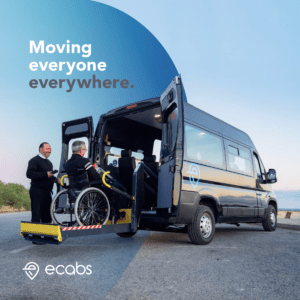 We worked with eCabs to create outreach that would directly assist those in need during trying times. The first initiative was a rapid response to the transport issues of those who use a wheelchair. eCabs launched a free Wheelchair Accessible Van service to all those who needed to attend medical appointments.
As a Victory Kitchen was being set up to deliver food to those in need, eCabs also stepped in, offering free deliveries using their ultra-sanitized cabs and with contactless delivery protocols in place to keep their part of the supply chain as sterile as possible.
In the meantime, we spotted an opportunity to put eCabs in touch with the Migrant Offshore Aid Station (MOAS) to assist with a volunteer programme that involved the manufacture of fabric face-masks that would be distributed to refugees and asylum seekers. eCabs stepped in to collect the raw materials and distribute them to 160 volunteers across the country. Once the masks were manufactured, eCabs carried out the return journey, collecting masks and distributing them.

Facebook Performance
With a drastic reduction in passengers, Facebook performance budgets were predictably slashed. Our goal was to maximise ROI of all Facebook communication, reaching the maximum possible audience with minimum spend so we selected and optimised the best performing brand and tactical content.
Initially, digital performance suffered as a result of the drastic decrease in allocated budget but, as we learned and optimised, the downward trend halted, showing that our optimisation had achieved its intended effect and that we were now on a sustainable track.
We also shifted a bigger percentage of the budget spend to brand building efforts. Even when the brand can't convert into direct sales, this was a time to keep the eCabs audience informed and, where possible, reassured.

Search
From a search perspective, search volumes took a nose-dive, there simply was no demand. In such circumstances, we scaled back significantly on spending where the intent was broad and fairly low, but left the high-intent campaigns running.
This permitted us to target just the right individuals, achieving an unusually attractive cost per conversion.

But there's more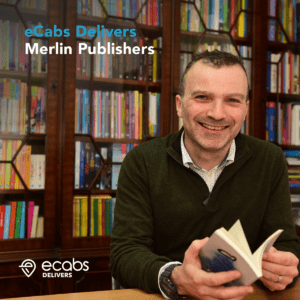 We need more than moving ourselves around. We need medicines and groceries. We need parcels and business papers delivered. So, we worked with eCabs to create a new product offering – eCabs Delivers.
In 48 hours we worked on the identity, the product offering, the communication strategy, and created all media we would need to launch a campaign. The campaign would inform the public that their favourite cab company, the one that took community safety very seriously, was putting its cars and drivers and technology backbone to work for delivery of everything that could fit into the boot of a large, passenger vehicle.