Yesterday was mental health awareness day, so we thought it was apt to post something about how mental health and high-stress creative environments get along at Switch.
Here we go:
We don't have walls at Switch.
Okay; maybe that's a bit of a misnomer. The building exists, and we have functioning doors and windows; our walls are painted green and white, and the shelves are crammed with objects from previous projects. Reception is an island at the front, and there are cubicles moored along the hallway that leads to the heart of the office. So far, everything is in line.
Then you get to the heart of Switch: the creative hub, manned by designers, content writers, social media experts, and Matt. This is where your stories are told – and there are no walls here.
Agency Life

Our desks are long, restaurant-style tables, pressed edge to edge together. If you need something from your desk mate in front of you, or the one to the left, or the one to the right, you can send an email – but it's quicker just to walk over and ask, and spend a couple of minutes chatting about your work. There's a table where we eat all our meals, although since the office renovation is underway, we've had to pull desk chairs around in circles, and eat in pow-wow groups, balancing lunch boxes on knees and cups on top of cups.
The office gets loud; it's definitely chaotic. The quieter among us have headphones so they can focus, and block out the noise. There's always something happening, and always something to do, but Switch operates with the idea that work and play should be united; after all, we thrive on storytelling.
Pooling Creative Resources
Switch's backbone is the creative pool. We all have strengths and weaknesses; you might be good at writing, but less good at photo-editing, or good at planning, but not so good with putting it into words – that's why Switch encourages the entire team to interact. Our @switchmalta Mental Health Awareness post was a labour of love, with photographers, project managers, and content writers volunteering their talents to make sure that we could show what unites us: we love telling stories, and to tell stories the way we do, you work as a family.
There are yoga sessions (not mandatory!) in winter, and quick walks at lunch when the weather is nice. We have social events (watch this space for a post about something spookily seasonal!) just to take a break, pull back, and enjoy the people we work with; movie nights, environmental clean-ups, birthday parties, make-something-unusual day. Our Whatsapp group hums with ideas for the next day. There are surprises. There are pranks.
There is a lot of food.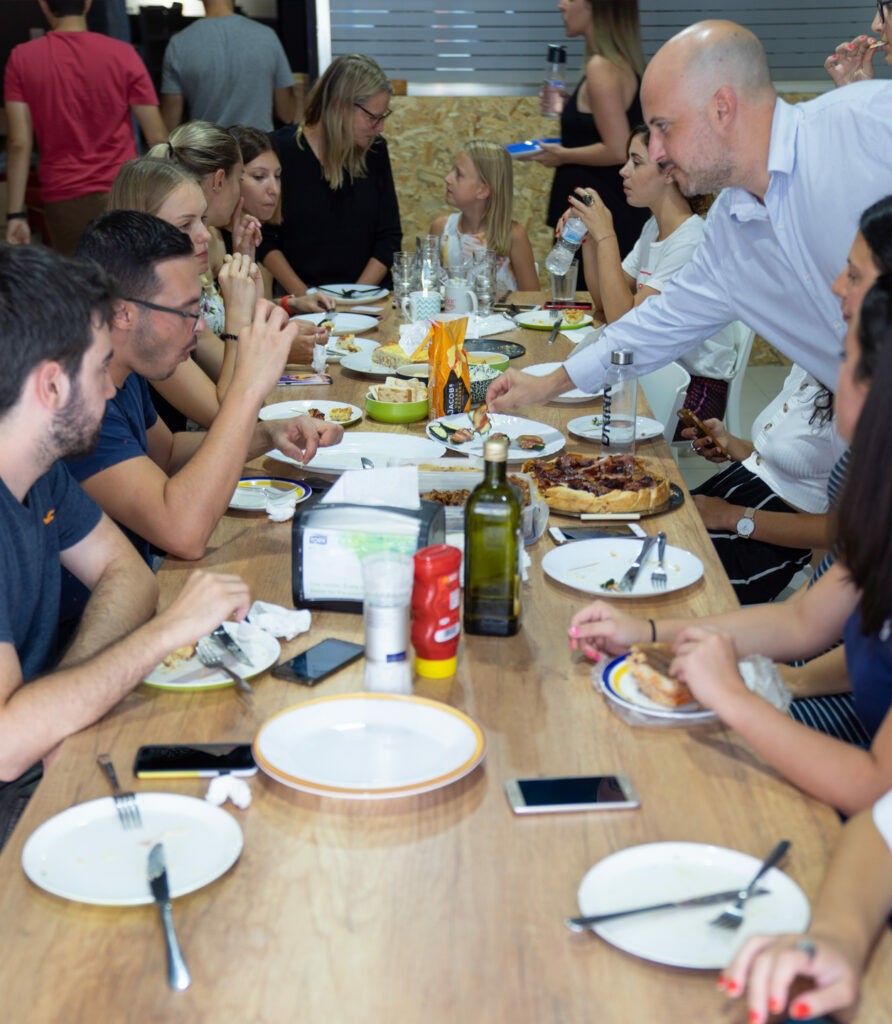 Ultimately, Switch functions like a family. When something bad happens to one of us, we rally together. If someone is sick, we notice and we miss them. And when something good happens?
We celebrate (with food).
We're starting a new blog series because we want to share with you the stuff that we enjoy. 'Agency Life' is going to follow the Switch office – but not our projects, which you already hear a lot about. For 'Agency Life', we're going to focus on what makes Switch unique: our doorless offices, and the people in it.
This is the story of Switch. We hope you're excited to hear it!