It is nearly eight o'clock at night when my phone goes off, and my coworker's name flashes up on the screen. Lisa, technically my manager (though if you use that word around her, she gets very offended), has messaged me on Instagram, and I know exactly what it's about.
I click through to the message. She has sent me a video of an incredibly ball-shaped cat, discovering to its dismay that gravity is both existent and a massive pain in the ass to deal with when all your owner wants to do is put you in silly outfits.
I type back: me, christmas party 2022, and get a string of laughing emojis in return. She sends me another three videos in succession: a cat called Juice holding onto a hunk of meat for dear life, two cats on a wheel failing to maintain equilibrium and falling tail over ears, and a cat who has somehow found a new home on top of a showerhead.
In response, I send her a video of ferrets covered in packing peanuts, a cat watching television with the gravitas of a BBC newscaster, and a reel of Tika the Iggy, who I know for a fact is one of her favourite accounts.
Lisa and I have not been friends forever.
But Switch's office culture tends to bind you to your people quickly.
It's not quite office culture…
Calling it office culture is a misnomer, really.
Our office is no longer in use. Our office is everywhere. Our office is Whatsapp and Google Meet.
Our office is used on Thursdays, though with the worsening traffic conditions and the earlier falling night, we don't see each other at work as often as we did before.
That's fine. As it turns out, office culture for us isn't tied to a place; it's tied to the people we work with, and the in-jokes that develop almost instantaneously when you've seen through the worst of the worst and come out on the other side.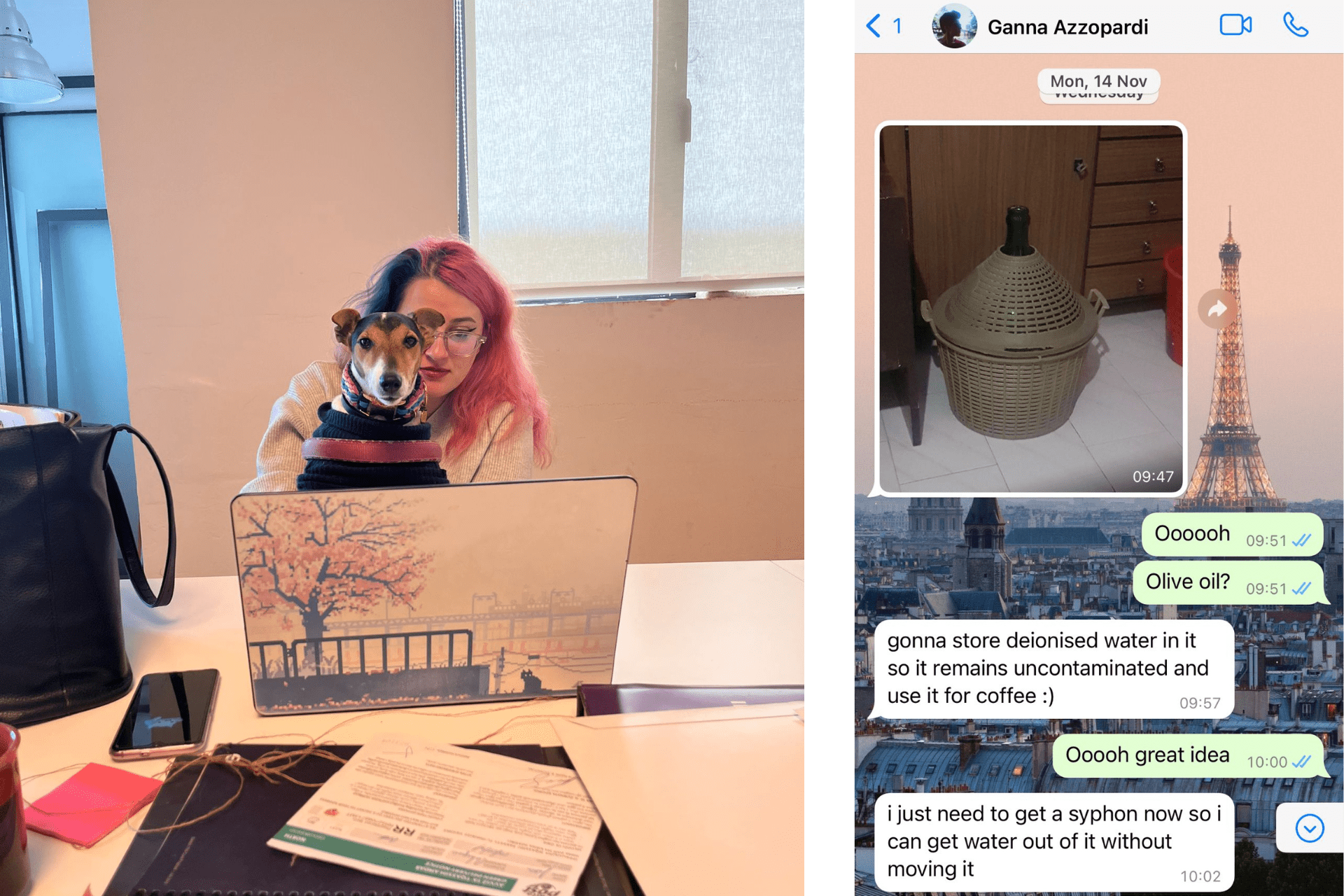 What do you do in your spare time?
Here's a list of the chats I have with my coworkers:
Notes on a book in progress that a coworker and I have been planning since we joined the company; they exist in between updates on our favourite videogames, anecdotes about our pets, life lived out in the margins.
One of my coworkers just received her new Steam Deck and SD card, and is keeping me updated on her progress through getting to game. She's recently graduated with a Masters in Design, and started her own business. Her messages are brief and colourful, and every so often, I get a picture of a cat (we have a lot of cats at the office).
A long-winded chat consisting only of memes, primarily Star Wars. I have a deep and unabiding hatred for Baby Yoda, a fact that Luke finds hilarious and insists on spamming me with at every opportunity.
On Instagram, if I see a naked cat, I send it to our traveller-at-heart, Ernesta. She finds them strange-looking; I find her emojis hilarious whenever I send her a cat more chicken-breast than cat.
There is a voice message from Brazil. Maria, who moved back home, keeps me updated on her life, her boys, and her husband. I listen to it before work, and miss her dearly, and also love how happy she sounds. There are children in the background, laughing. It is a noise that suits her well.
Good posts from around the internet; things that tell a story. Ed has an eye for a good narrative, and he wants to push us both. Whenever he sees a story, I see it too, in a Whatsapp message or a quick poke on Google Chat.
A volley of rabbit posts. Nella, one of our designers, sends me a rabbit in sunglasses. I send her a rabbit in a little shopping trolley. We commiserate over how much it looks like her own pet, a bunny named Nunu who rules Kappara with an iron cottontail.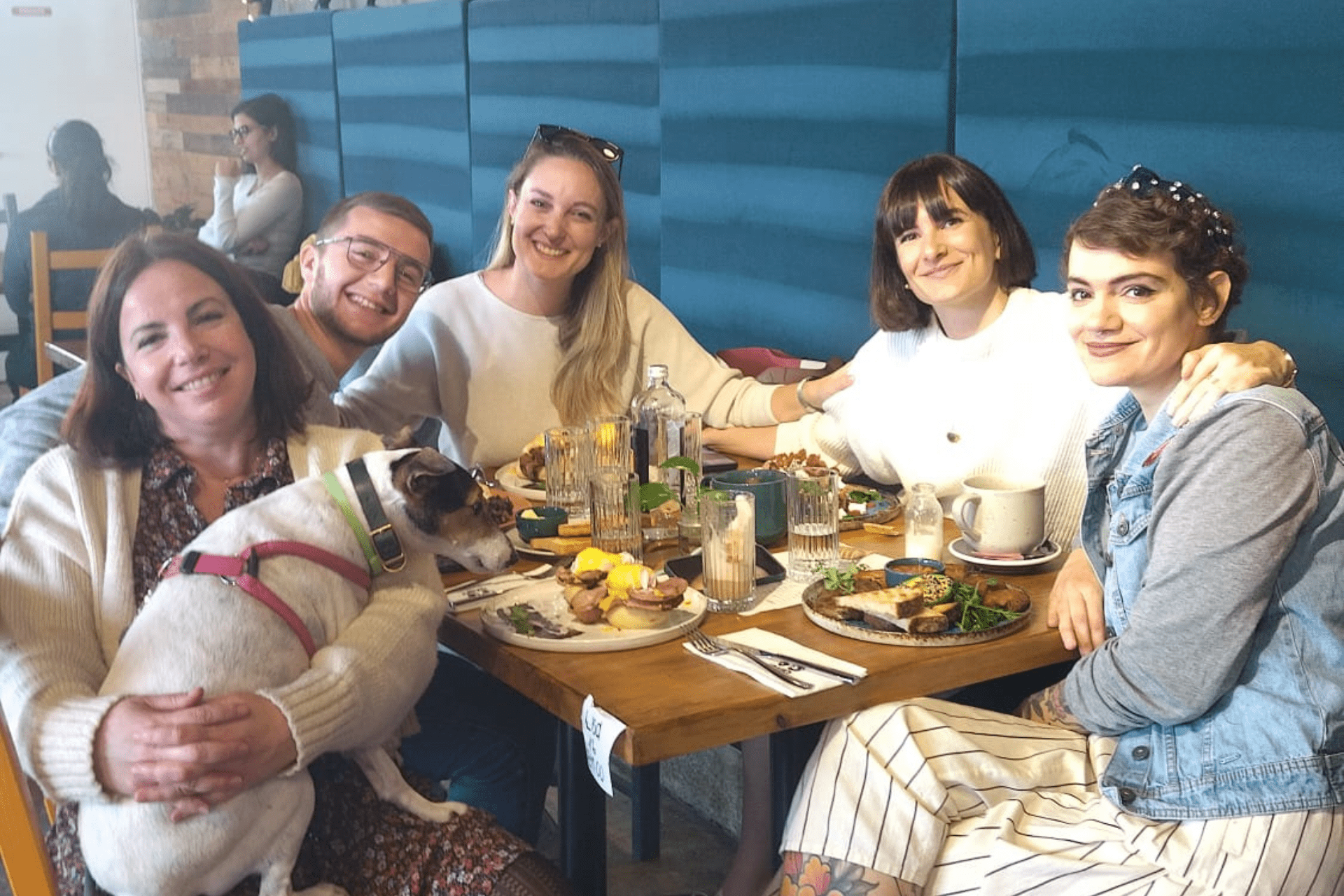 Sounds like it's just you.
It's not just me. Technically, we do have a group whatsapp, called Bacon, and while it's used mostly to update on who'll be in the office when, you see little glimpses of what it's like between the others.
Here's what I know.
Lisa, who worked in hospitality, has an ongoing conversation with Ganna over coffee: quality, best brewing technique, which coffee shop in Malta gives you the most excellent espresso. The last I heard, they're setting up a small-batch roast-and-taste day (waiting for my invite, guys!)
Our newest hire has never watched Star Wars or Lord of the Rings, and this has to be rectified at the earliest opportunity. In the meantime, Luke makes sure to remind him of his youth, and Luca makes sure to call us out when we make a technical gaff (mostly this is directed at Rik and Ed).
If you need to know where to go for a nice date or a good dinner, Ed has an eidetic memory of every place worth eating at in Malta. Friday night sets the group chat alight, and it reminds me that we've yet to try eating African together (our last lunch date was Doma, where I discovered I very much dislike kimchi, but made up for it by handling my spice pretty well).
Every so often, Melissa, who is out on maternity leave, sends us pictures of her baby. It's a bright little moment in the Whatsapp group, and you can always tell – people all respond at once.
Birthdays. Anniversaries. Switchiversaries.
We might not be in the office anymore, but we're locked into each other regardless. I know Thomas is taking his own business to a newer level, working on a shop and a place in Valletta. I know Kim is happier in Finland than she ever was in Malta, though she complains frequently about polar night, and also reminds us to get up and get moving. Rik is a running fanatic who keeps us updated on where he's running.
Fanny sends us pictures of her life in a French bakery, and we debate blocking her until we get a king's ransom of baguettes and croissants (we won't. But the point stands).
Andrea shows us the figurines he paints in his spare time. Over the lockdown, we watched his office go from Fallout bunker to cosy little nook. His Warhammer figurines are detailed down to the last little fragment, and they shine freshly-painted on every Google Meet.
Office culture, redux
It's not office culture if all that holds you together is the place you're in.
And no, you don't need to like your coworkers.
But it really helps if you're friends with the people you work with. If your culture fits together like jigsaw pieces. If you know you can send a message to a chat with over twenty people, and get an answer back, or get a joke to make you smile, or get a private message asking if you're okay. It helps if you know your office has your back.
I know I am lucky. The place I work in changes every day: from the sun-speckled apartment to a coffee shop crowded with brew smells to a dark little corner of a restaurant on a quick lunch break.
What doesn't change is how it still feels like I'm in the office.